'Hidden Details' - Press Reviews
​I'm delighted to post reviews here in relation to Soft Machine's 'Hidden Details' release. First up is Brian Morton's fantastic review from The Wire, October 2018.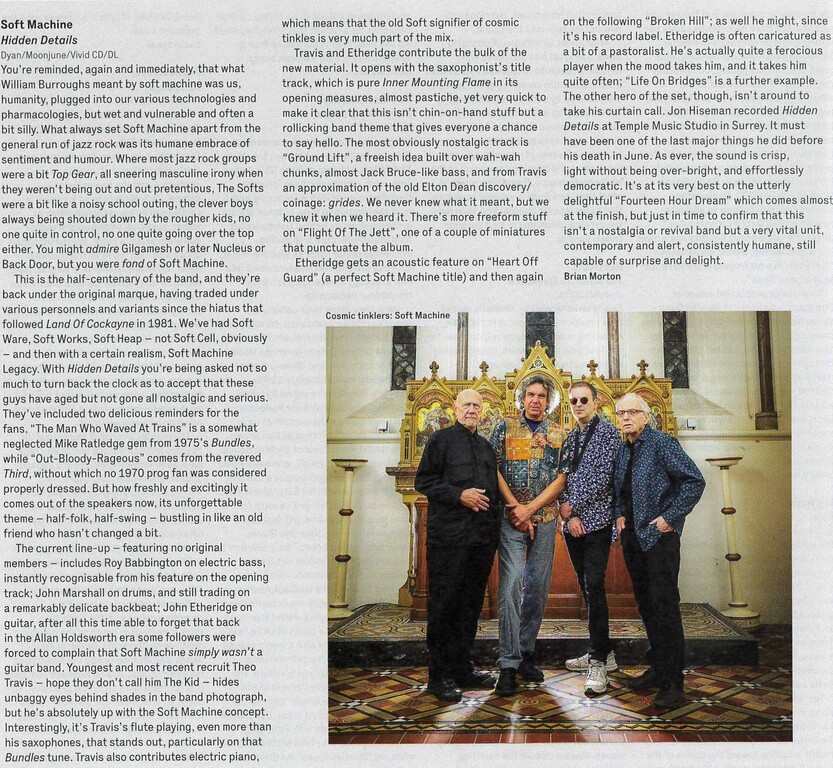 From The Times...
Since 1968 the band name Soft Machine has meant all sorts of things to all sorts of people. First came the psychedelic pranksters who vied with the Pink Floyd as freak-out favourites in underground London. As hip as hash cakes but unable to actually sell records, they made the farthest-out noises on John Peel's Top Gear show. The quartet also became the first "pop" band to play the Proms (and were briefly managed by Damon Albarn's dad).
Through the Seventies Soft Machine turned into an increasingly chin-strokey jazz-rock project before slowly expiring, out of tune with the punky times. Their last gasp proved to be the unlikely launch pad for Karl Jenkins, the lavishly moustached Adiemus composer beloved of Classic FM.
There have been some partial reunions (Soft Works, Soft Ware, Legacy) but now, 37 years since the last studio LP, the Soft Machine name has been fully resurrected by four very credible veterans from the myriad who served under the band's flag. Hidden Details features John Etheridge, guitar, Theo Travis, sax and flute, Roy Babbington, bass, and John Marshall, drums. It's a robust and engaging set that, incidentally, the bots at Amazon have filed under "rock". That's probably down to the muscular stomp of the opening title track, which features from Etheridge the sort of fret-melting guitar solo not heard since Frank Zappa's Shut Up 'n Play Yer Guitar.
The band, of course, has a broader palette — from Metheny-like jazz-rock to anything-goes improvisation; from pastoral passages with Etheridge on acoustic to an ambient flutescape from Travis. Compact and to the point, nothing overstays its welcome. There are faithful versions of two old favourites — Out Bloody Rageous and The Man Who Waved at Trains. That they sit well amid the new material suggest that this is a band looking back as much as forwards. That's hardly surprising when three quarters of the members are in their seventies (although you wouldn't guess from the rhythmic clout). The quartet are on tour, playing British dates in November. Welcome back, gents. (Dyad)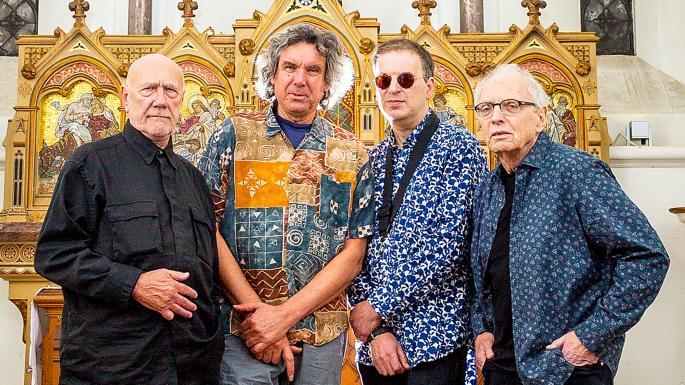 September 2018 issue of Shindig, our gratitude to Joe Banks.