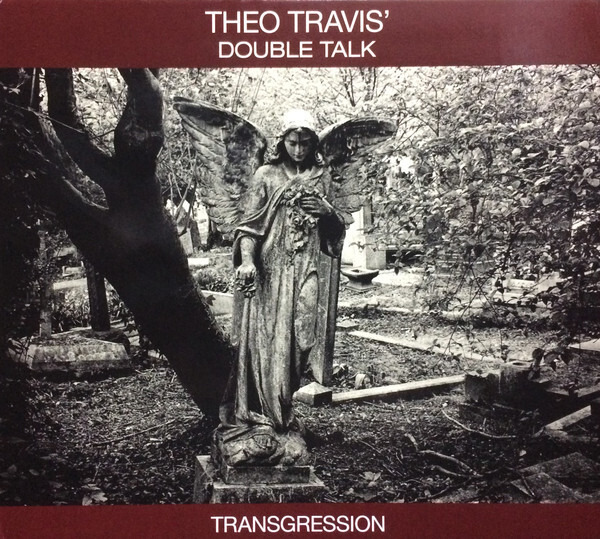 By : Martin Burns - DPRP - Dutch Prog Rock Page
Tenor saxophonist and flautist Theo Travis is well known in prog circles for his work with Steven Wilson, early Porcupine Tree, Gong, Soft Machine Legacy, The Tangent, Bill Nelson, Keith Tippett and with Robert Fripp in Travis and Fripp. Transgression is his first progressive jazz based album since 2007's Double Talk, which has provided his band's name.
He is working again with Mike Outram on guitar (Steven Wilson, Herbie Mann, Carleen Anderson, Jacqui Dankworth) and Pete Whittaker on Hammond organ (John Etheridge), who both appeared on that 2007 album. They are joined by Nic France on drums (Steven Wilson's Grace For Drowning album, David Gilmour's Live At The Royal Festival Hall DVD and Kate Bush, Robert Wyatt and Allan Holdsworth).
As one would expect from musicians with such pedigrees, the music on Transgression is expertly played, full of subtleties and fire. The music is more than well served by Steven Wilson's mixing and mastering of the CD. As the keen-eyed reader will have noticed, there is no bass player on this album. So the low end is provided by Whittaker's Hammond playing and by the low notes out of Travis' tenor sax.
The album opens in a fierce fashion with the Mahavishnu Orchestra blast of Fire Mountain with Travis' tenor blowing up a storm, seemingly forcing the other band members to keep up. The music is jazz, but it is jazz that heavily channels English progressive rock and jazz of the seventies, eschewing the funk and fusion elements of American progressive jazz-fusion. It is a terrific opening.
Bookended by quiet Floyd-like guitar and organ passages, the title track just about edges it as the standout track on this collection. It moves from the atmospheric opening to darker, harder tones as it shifts through the gears. There is an incandescent solo from Outram that then makes Travis up his game for his free-blowing tenor solo. However, this still remains an ensemble piece, with Whittaker's organ and France's drumming moving from the sensitive to the storming in support without being overwhelmed. This is fabulous music by anyone's standards.
What follows these two engaging openers is just as good. There's the relaxed Peter Green meets Carlos Santana latin-jazz blues shuffle of Smokin' At Klooks and the moody atmospherics of Everything I Feared, co-written with Dave Sturt of Gong and Jade Warrior, which has brilliantly delicate flute work on it. The gentle Canterbury influence can be found in the cover of Robert Wyatt and Philip Catherine's gorgeous Maryan. The flute-led melody, underpinned by subtle drum and organ, is quite haunting.
The other lengthy track, though not up to the 25 minutes of the original version, is a cover of The Tangent's A Place In The Queue. Here, the band work as a unit producing a soulful and plaintive sound. I must mention here Whittaker's outstanding Hammond work. If you are looking for a reference point here I would steer you towards Thijs van Leer's sound on Focus' song Focus III. Like any good cover version, it sent me back to listen to The Tangent's original.
If I have a caveat it is in the form of the lounge jazz of Song For Samuel, which I thought was a little bland at first, in a seventies sitcom-theme sort of way, given the quality of the other compositions on this album. But on repeated listens, it is saved by changes in dynamics and by a delicate, quiet guitar solo.
Overall, however, this is a blindingly good album of melodic and exploratory progressive jazz. But at the same time, it remains modest in that wistful English Canterbury way, so that it ensnares you in its heartfelt charms. Let's hope that there is not an eight-year wait for a follow up.
Conclusion: 9 out of 10