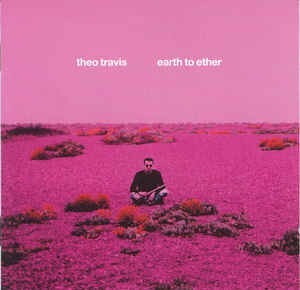 All About Jazz (1)
Quirky, quietly trippy and deliciously uncategorisable, Earth To Ether is an oddity (we like odd) even by Theo Travis' standards. The British flautist/saxophonist's varied activities include leading a hardworking on-the-road straightahead band, co-leadership of ambient/electronica outfit Cipher and free improv trio Marshall Travis Wood, and ongoing composing, performing and producing collaborations with Daevid Allen's Gong and singer/songwriter Anja Garbarek (daughter of Jan). Each of these diverse projects is stamped with Travis' trademark lyricism and love of lush, dreamy soundscapes.
There are elements of all these experiences hereâ€"plus guest contributions from prog/Canterbury vocalist/guitarist Richard Sinclair (Caravan, Hatfield & The North, Robert Wyatt, Hugh Hopper, Tony Coe); lyrics from Jonathan Coe, author of the acclaimed cult novel The Rotters Club, ('The Munich Train,' 'This Frozen Time'); astral jazz ('The Mystic & The Emperor'); in-the-Jobim-groove bossa nova ('Marti'); shades of Eddie Harris' hot tenor soul-jazz ('Full Moon Rising Part 2')... and a straight up cover of King Crimson's '21st Century Schizoid Man.'
The wonder is, it all fits so seamlessly together.
The three vocal tracks, it has to be said, have precious little to do with jazz, and should the jazz police discover them on this album, Travis will have some questions to answer. But they are enchanting pieces of music however you label them (progressive folk? the sound of psilocybin?). Sinclair's voice is one of a kind, and full of character, and he is an ideal vehicle for Coe's deceptively simple lyrics (young woman on a train, observed; the loss of a partner, wintertime), which gain resonance with every repeated listening.
As well as the ability to put out grits 'n' chitlins tenor solos, Travis and Eddie Harris share another, electronic lineage. Back in the '60s, Harris pioneered the use of the electric sax; forty years later, Travis has developed his own live-and-in-real-time multitracking systemâ€"'ambitronics'â€"which allows him to build up complex canvasses of sound via a series of foot pedals. The system here enriches in particular Travis' flute work on 'The Munich Train' and 'Stewed Flute,' the latter an otherwise unaccompanied flute solo. Travis, admirably, is in complete control of the electronics, while a lesser artist might be overwhelmed by a blizzard of loops and overdubs.
Out of the left field for sure, Earth To Ether will sidle up to you and, if you let it, magic you away. Chris May
All About Jazz (2)
Earth to Ether, when placed in direct comparison to View from the Edge, demonstrates just how far Travis has come in the intervening years, yet also illustrates a conception that has existed all along and continues to be honed.
Concentrating on flute this time - Travis plays sax on only three of the nine piecesâ€"the atmosphere is more ethereal, more elegant, and his allegiance to the Canterbury sound is more dominant, possibly because groups like Caravan and Hatfield and the North made strong use of the instrument, but also because of a certain airy and pleasant sonority of the material. The appearance, on three tracks, of ex- Hatfield and the North and Caravan bassist/singer Richard Sinclair, this time on vocals and guitar, cements the link.
And yet, for all Travis' influences, his general leaning towards a more acoustic sound gives his material distinction. He has an uncanny way of making his compositions match their titles. 'The Mystic and the Emperor,' with it's dark tone that opens up into an uptempo solo section with shades of Brazilian music somehow embedded, feels wholly appropriate. 'The Munich Train,' a duet between Travis' flute and Sinclair's voice and guitar manages, remarkably, to truly evoke the image of a train trip, from the gradual pullout from the station to the more propulsive middle section that reflects the train picking up speed. Travis ends the piece with a richly visual instrumental section where he uses his ambitronics method of looping flute phrases in real time to create a rich wash that conjures images of distant places.
There are few players who would be brave enough to attempt an acoustic rendition of King Crimson's classic '21st Century Schizoid Man,' but Travis excises the instrumental section in the middle of the piece, and turns it into a truly schizophrenic take, slowing down the rapid-fire ensemble passage from the centre of the original piece to half-time and positing it as a hip hop-inflected theme, going into double-time for the solo section and then returning to the half-time theme. As always, Travis' tenor tone is robust and clean. On 'Marti,' he demonstrates his debt to Stan Getz on a bossa-inflected piece that features guest guitarist Mark Wood on classical and electric guitars.
For the most part the album features Travis' current touring group of pianist Simon Colam, bassist Andy Hamill and drummer/percussionist Marc Parnell, players who have developed a clearly simpatico approach. On the charged and polyrhythmic 'Things Change' the rhythm section manages to hold the convoluted pattern together, gradually building in intensity until the end, where Parnell gets the opportunity to strut. 'Full Moon Rising Part 2' is essentially a blues, and gives everyone a chance to blow, with Travis switching from flute to tenor for his solo, and to give added weight when the group returns to the lightly funky theme at the conclusion of the piece.
With View from the Edge and Earth to Ether demonstrating an eclecticism that is tied together by a generally acoustic approach that still manages to blend in some contemporary ambiences, Theo Travis has established himself as a leader with a specific vision that brings together a multitude of influences into a unified and distinct concept. And as Travis becomes increasingly busy with both his own projects and work with others including Gong, Anja Garbarek and Cipher, it is only a matter of time before he gains exposure in North America, and the broader audience he deserves.
Jazz Review
The columnist Paul Jennings once wrote of how he had seen a for-sale card in the window of a music shop in Charing Cross Rd. It said "Flute for sale". Easily concealed.£20"
In the ensuing funny piece he imagined a totalitarian state where flutes are outlawed and as such become a symbol of resistance.
Theo Travis has kept his flute partially concealed until relatively recently, making more a name for himself as a tenor ssaxophonist recording an album a year between 1993 and 2003. He's in good company. Many of jazz music'sbest flautists are/were tenorists:Yusef Lateef, James Moody, Charles Lloyd, Lew Tabackin, Eric Dolphy and even John Coltrane. (I wonder how being a saxophonist informs the flute playing , if at all?) This latest work ofrom Travis, made with his regular mainstream touring group, is a real grower. Of the nine numbers, eight are original compositions and they have a gently captivating, radio friendly quality.
Travis plays flute on all but two of them. He's a lithe, but full-muscled flute player. unlike some flautists there's none of that breathy panting with Travis, or anxious struggling to be heard on the top line. His sound is unmistakeably, effortlessly and purely there. When he does pick up the tenor, it is in two different modes, giving a glimpse of the man's flexibility. With "21st Century Schizoid Man" (that's right pop pickers, the King Crimson hit), he's all tough hustle bustle, leading the rhythm section a dance; on "Marti", by comparison, Travis comes on like a latterday Getz, tenderly caressing the Brazilian tinged melody. Three of the tunes have lyrics fitted (two of them by novelist Jonathan Coe) and aresung by Richard Sinclair, whose pleasant voice reminded me a little of Robert Wyatt.
Altogether, here's an album that seals Travis's growing reputation as one of our most fascinating windmiths.
Garry Booth
Jazzwise Magazine
" After the wide open spaces of Heart of the Sun, Earth to Ether is more of a chamber piece, focussing heavily on song and flute rather than the dramatic arrangements and stellar soloing of Travis' last outing. Although he's always featured flute, Earth to Ether is the first of Travis'albums to bring th einstrument to the fore in a group context. But Travis doesn't just go for splashes of colour, the flute's usual role. Instead he draws on Tubby Hayes'fleet-footed muscularity and Harold NcNair's funk anbd takes the flute, notably the alto, into darker spaces, such as the bluesy, multitracked "Stewed flute" or the lyrical yet mysterious "This Frozen Time". The other major development is the inclusion of Richard Sinclair's fragile, haunting voice. Combined with Jonathan Coe's lyrics, the results are strongly melodic, but never tip into the whimsy that can mar such an "English" sound. Throw in Travs' now longstanding and robust band, able to whip through a furious"21st Century Schizoid Man" or the groove of "Full Moon Rising pt2" and the overall sound is rich, lyrical and refreshing, and a further reflection on the wide range of exciting voicesthat make up contemporary British jazz"
Live Review
Theo Travis Band. Bonington Theatre, Arnold, Nottingham - Thursday 4 November 2004.

From past visits we always look forward to something new from this hi-octane quartet and in terms of innovative sounds this gig was no exception. One was the alto flute that Theo Travis has added to his cache of tenor sax and flute. Second was his application of an electronic device that enabled him to "live loop" his instruments, which built up random phrases into layers and textures. This worked best on his alto flute - a phrase would detach itself and seem to float around the auditorium while he improvised with his tenor sax over the top. Very effective!
His third new offering was pianist Simon Colam, a meticulous musician and brand new on the London scene. His shimmering cascades and cleanly executed lines promise much when he frees himself from the rather strict routines demanded by Theo's outfit.
Some things in the band have not changed. The most apparent was the phenomenal drumming of Marc Parnell. He showed a great flair for showmanship his in solos and was an almost telepathic communicator with the rest of the band, especially when Theo was in full flight. Every twist and turn received an instant response. This brings us to Theo's tenor sax, sounding richer, even more appealing and bristling with ideas.
Bass player, Alex Keane, brought in at short notice was precise, nimble-fingered with a beautiful, warm tone. Theo played material from his numerous albums, especially his latest effort Earth To Ether. The opener The Mystic And The Emperor, introduced flowing, silvery lines from Theo's flute, elaborated upon in turn by Simon's piano, deep bass and Marc's chattering snare. A turbulent excursion into jazz-funk produced 21st Century Schizoid Man, whipped up again by some fabulous drumming. Featured was a fine collection of lyrical ballads, with Theo particularly excelling on his alto flute with an original, The Book. Another ballad, Marti, initially featured Simon's piano in a placid mood, followed by luscious tenor sax from Theo. The mood changed on Fort Dunlop - a number Theo introduced at his last outing to the Bonington - his glorious tenor riding over a march tempo and superb bass. Shore Thing was a great ballad which showcased Simon Colam's delicate and precise piano style. Barking Dogs And Caravans was another we have heard before, featuring fleet-fingered bass from Alex Keane and Marc Parnell again stealing the limelight with his magnificent drumming."
Metro Newspaper
"The reluctance of jazz musicians to acknowledge any music made after, say, 1958 seems like a wilful withdrawal from reality. However, tie any jazz musician who came of age between 1970 and 1975 to a chair, and it won't take him long to confess an early fondness for Yes and Genesis. So, Earth to Ether, the forthcoming album from reedman Theo Travis, is refreshing in the way it actively embraces the prog rock legacy.
Travis adds charm to 21st Century Schizoid Man, King Crimson's masterpiece and the world's most histrionic rock song; henavigates tricky time changes on tenor sax at terrific speed, yet with a sense of relaxation that defuses the bombast of the original. There are also dreamy vocal pieces, reminiscent of the great Robert Wyatt, and Travis' fondness for flute gives off the authentic whiff of the early 1970's.
In fact, Travis has worked with John Etheridge (Soft Machine), Bill Bruford (Yes/ King Crimson), and Dick Heckstall -Smith (Colosseum), while he has also filled in for Didier Malherbe in psychedelic prankster band Gong. His floating soundscapes, rhythmic cadences and blistering workouts of today seem like a natural extension of his interest in prog-rock - albeit looser, less drilled and genuinely exploratory."
The Hairless Heart Herald
Who is your favourite saxophonist? Mel Collins, David Jackson, Jimmy Hastings? All the aforementioned are great players and much acclaimed in the prog world but those of us who have listened to The Tangent, and more recent Gong and Porcupine Tree will have discovered another name to add to the list of names - Theo Travis.
Theo, who has a degree (with honours) in music, is also a composer and flautist, and is one of the biggest names on the British jazz scene today. His active involvement in such an eclectic range of music is reflective in his latest album, Earth To Ether.
Earth To Ether features Theo's regular touring band of Simon Colam (piano), Andy Hamill (bass) and Marc Parnell (drums). Marc, who has worked with Martin Barre and Jethro Tull, is the son of the great Jack Parnell who us older persons will remember as being ever present on our TV screens in the 60's and 70's with his orchestra.
Neither progressive nor jazz fans will be disappointed with this album as the way you hear the music will be influenced by your own particular affinity to either genre. The complexity of the opening track, 'The Mystic And The Emperor', is a delicate weave of prog and jazz, Theo's flute reminiscent of Ian Anderson's solo albums combining with the ripple of piano and meandering background bass with Latin style percussion. In a word, superb.
The dialogue "Stand back, I'm going in" pre-empts the start of a track every prog fan will recognise; '21st Century Schizoid Man'. Theo's take on this standard bearer of prog is truly unique commencing with a 'Starsky and Hutch' style almost unrelated jazziness, erupting with a sax flourish into good old King Crimson. Cool jazz or cool prog, cool is the operative word.
The voice of Canterbury and prog legend, Richard Sinclair, guests on three of the nine tracks adding, dare I say, that 'Hatfield' touch of brilliance. Author of the novels 'The Rotter's Club/ and sequel' 'The Closed Circle' (highly recommended reading by the way), Jonathan Coe, pens the lyrics to the tracks 'The Munich Train' and 'This Frozen Time', both of which feature Richard on vocals and guitar, co-written with Theo. The feel of these tracks is, by default, very Canterbury and as you might expect from an author, the lyrics tell a story around some delightfully atmospheric flute work. Love the lyrical reference to 'winter wine' in 'This Frozen Time'.
I hate comparing flautist styles with that of Ian Anderson because it it is so obvious yet 'Stewed Flute' is one of those pieces which actually fits the comparison though the track also contains elements of Clive Bell's style of Japanese flute.
'Things Change' returns to the progressive emphasis with flute lead and bass, complex piano and percussion providing the base line in this great instrumental. 'Full Moon Rising Part 2' (Part 1 can be found on Theo's 'Secret Island' CD) closes the album. This ultimately jazzy piece features Theo's mastery of the tenor sax, and is a groovy, funky, fun way to finish.
Those of us with an ear for both jazz and prog are guaranteed to love this album and prog fans who are not yet jazz converts will have their eyes (or ears?) opened when they hear Earth To Ether.
Jem Jedrzejewski
The Scotsman (****)
"Flautist/saxophonist Theo Travis is a strong composer, and his accomplished writing provides varied and attractive material for his quartet. Former Caravan and Hatfield and the North vocalist Richard Sinclair is a special gueston three songs, and Travis' love of prog-rock is also reflected in a cover version of King Crimson's "21st Century Schizoid Man", long a staple of his live set."
Sid Smith Diary (Krimson News)
" Travis has the rare knack of making more from less, completely avoiding the breathy overblowing that is the last resort of flautists who are both running out of ideas and breath at the same time. His recent UK tour showed Theo Travis in fine form fronting an excellent group of needle-sharp players. The popular stereotypical image of a sax player is that of a beret-wearing, shade-wearing outsider giving voice to his tortured soul through his horn. In concert, this potent archetype is politely disarmed as Travis makes his point without recourse to populist histrionics or reed-biting avant-garde posturing.
Certainly the broad-range of people Travis has worked with demonstrates he has a foot in both the jazz mainstream and progressive rock related field. Having just finished laying down some tracks for David Sylvian, Travis can be found in the company of ex-Soft Machine stalwarts John Marshall and John Etheridge, as well as Tim Bowness, Gong, and Anja Garbarek.
In concert, Theo Travis remains as concise and measured as he does on his new album Earth To Ether . What makes Travis so listenable is that his playing serves the composition rather than the other way round. The dividend paid out for this approach is a highly melodic, well-rounded music, full of dazzling expression and a deft fluidity.
The ascending chord sequence on Earth To Ether, The Mystic and the Emperor, suggests that Travis regards onwards and upwards as the place to be. The allegorical title finds fitting expression in the exchange between spiritual matters and their temporal counterparts; Simon Colam's ethereal piano shimmers like a heat haze whilst double bass player Andy Hamill produces an earthy solo delving deep, offering a contrasting yet complimentary expression.
The energies created with this track are continued in an imaginative arrangement of King Crimson's 21st Century Schizoid Man. Theo has said that the inspiration for attempting this came from ProjeKct Two's loungecore version. Here, Travis draws down some prime tenor sax, emphasising the hard-bop heritage that was drawn upon by at least one of the composers of the piece.
The appearance of Richard Sinclair on three of nine tracks is particularly welcome given his lengthy bout of musical silence. Yet his lugubrious vocals (along with Travis' choice of cover material) will consolidate his prog-friendly profile and in doing so, alienate himself from the serious jazzers who might consider fraternising with prog a heinous artistic crime.
However when the results are as convincing as the urbane ballad The Book or This Frozen Time (the latter lyrics supplied by Brit-Lit author, Jonathan Coe) Travis can afford to shrug off any naysayers. With its punchy dynamics (it was mixed and mastered by Porcupine Tree's Steve Wilson), Earth To Ether is a triumph; a diverse album united by significant compositions and top-drawer playing from all concerned. "