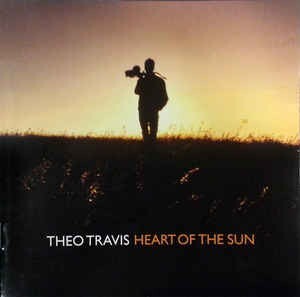 Theo Travis's new album Heart of the Sun (33 Records) shows a young saxophonist at the peak of his career. In fairness this isn't an album to please Little Englanders - prominent guests include Danish trumpeter Palle Mikkelborg (an alumnus of Miles Davis and George Russell) and Daevid Allen the Australian guitarist with spacey prog-rockers Gong who specialises ina peculiar form of distorted , glissando slide guitar. And much of this scarcely fits into the "jazz"remit: across eight exploratory tracks, Travis' own brand of propulsive modal jazz is mixed with Brian Eno-ish ambient soundscapes, late -era Miles Davis grooves and freaky, highly textured psychadelic wig-outs. Travis' bluesy soulful tenor and his spooky soprano weave in and out of Mikkelborg's parched trumpet lines and almost melt into Mark Wood's shimmering distorted guitar riffs, backed by an efficient and suitably sympathetic rhythm section.... Not sure how they'll replicate this electrified odyssey live, but they'll have fun in trying.
John Lewis Time Out (Pick of the week)
"British saxophonist and composer Theo Travis's career on the local jazz scene may have identified him (for a small but attentive audience) as one of the UK's most creative and least clone-like of the younger straightahead jazzers - but there's a lot more to him than that. This disc highlights Travis' collaborations with members of the German band Triocolor and veteran art-rocker Daevid Allen's Gong, but the most powerful guest presence on this fourth Travis session for 33 Records is the illustrious Danish trumpeter Palle Mikkelborg, a man with a totally personal, stealthy yet sensuous sound. Pianist Dave Gordon makes some telling please for more appropriate recogntion too. At first you think you're in standard Travis territory while his rich tenor tone eases through the grooving ballad All I Know. Then the slowly unfolding soprano sax line on Northern Lights, over glowering electronic harmonies , suggests that the disc is pulled - sometimes uneasily - between straightahead jazz and north European impressionism, with the latter the more generally absorbing. Palle Mikkelborg's presence on this track and three others transforms the set - barely breathing on Northern Lights, purring and cat-wailing against Andy Hamill's slinky bass on Fast Life , garrulously sinister on Here's that Rainy. But Theo Travis's strengths as a saxophonist are always apparent, notably in the soft swing and eloquent vibrato on the mixed tempo That Old Smile, and in the sympathetic interplay with Mikkelborg's trumpet all over the disc."
John Fordham, The Guardian
"This is neither as fiery nor as straight ahead in its approach as some of Theo Travis' earlier albums, but it is his most impressive achievement on disc to date. Travis' music has been expanding in diverse directions for some time, and reveals a distinct step forward in maturity and conceptual range here. The saxophonist acknowledges in his sleeve note that the album is based around the compositions rather than the band, and he varies the personnel accordingly. The thoughtful, carefully constructed arrangements provide a lovely framework for his ideas, and he has recruited Palle Mikkelborg's cool beguiling trumpet as a second horn on three of the eight cuts. Mikkelborg switches to flugelhorn on a fourth, the album's only cover version, a slow and spacious reading of "Here's that Rainy Day" which also features Gong's Daevid Allen. The lucid, subtly delineated and often highly evocative soundscapes which Travis creates are spiced up with fine soloing, and he makes effective and restrained use of ambient loops on several tracks, including the haunting "Northern Lights" and "Bass Rock". The least conventional piece on the album is "Last Flight From Twinwood", named for the now disused RAF base from which Glenn Miller took off on his final flight. The choral effects he employs suggest a bigger ensemble than the sextet he actually uses, while the gently keening horns and Mark Wood's distorted guitar add an eerie edge to te piece."
Kenny Mathieson Jazz Wise 4 stars (out of 4!) Recommended
"The name of Theo Travis is one of that is more often appearing in this magazine, and not without cause. The number and the level of the albums to which he has participated already alone constitutes a good business card for the British sax player, surely one of the greater talents currently in circulation. But Theo Travis can boast also a solo career worthy of all respect, which the pages of No Warning! have been able to testify, talking, some time ago, of the optimal album by Cipher, the good solo album Secret Island and the formidable live album Passion Dance.
Heart Of The Sun is the first studio album since Secret Island, an album that has been justly applauded by both critics and audience; but, and I say it dispassionately, forget Secret Island, Theo with Heart Of The Sun has gone a lot beyond it. Probably the numerous collaborations and the positive experiences of Cipher and Gong have carried Theo to the full maturity, of which this wonderful album is the manifesto and for which, as said in the notes of the booklet, Theo has mainly concentrated on the compositions for the recording, choosing the line ups of musicians specifically to maximise every single piece. For this purpose he has been surrounded by various musicians. .In addition to the members of his Quartet David Gordon (piano and Hammond organ), Andy Hamill (double bass) and Marc Parnell (drums), here are present the guitarist Mark Wood, the legendary Daevid Allen at the glissando guitar, the bass player Stefan Weeke, the drummer Bjorn Lucker, Stewart Curtis on clarinet and the Danish trumpeter Palle Mikkelborg.
Of this last presence Theo is particularly proud, as Palle Mikkelborg is a jazz player of world-wide reputation that has done collaborations with Miles Davis, Terje Rypdal (ECM artist), Dexter Gordon, George Russell, Gil Evans, Jan Garbarek and Charlie Haden. Here Mikkelborg is present in four of the eight tracks included in the album, an album that has been mixed and co-produced by Steven Wilson and Theo. Heart Of The Sun is a masterpiece in that it conjugates jazz with many other musical languages, giving proof of the ductility of Theo Travis: ambient, Canterbury School, jazz rock, progressive rock happily cohabits aside of the remarkable melodic sense of Theo, able to create unforgettable phrases of sax. If the talent of Mel Collins needed to designate a heir, this is without doubt Theo Travis, as in the wonderful Barking Dogs And Caravans it leaves to be transparent his passion for King Crimson, with a piece that mainly in its second part nods to the memory of some passages of their track Fallen Angel.
There are always present points of pure instrumental ability, for example the piano solo by David Gordon in All I Know, a piece that would deserve domination of the charts of jazz music all over the world, but the instrumental ability in this disc is not self indungent, but precise dowels of a mosaic without equal. Echoes of the Cipher project cross Northern Lights, marked by the introspective voices of sax and trumpet over chords of Hammond organ.
The alternance of pieces generates contrasts of humors and colorations that Theo must have studied for many time in order to structure this album so well. Listen to the beautiful introductive theme of Fast Life, led by both trumpet and sax, before leaving space for the several solos that are articulated on a rhythm fast and explosive, before the theme returns to close the piece. Already cited is Barking Dogs And Caravans, scattered with linked and truly sublime melodic cues, in which it is possible to appreciate also the optimal guitar intuitions of the former Nucleus member Mark Wood. It precedes a standard of Jimmy Van Heusen rearranged with an ambient approach -
Here's That Rainy Day which is enriched by the beautiful solo of Palle Mikkelborg and with the visionary contribution of glissando guitar by Daevid Allen, decreased on the chords of the crystalline piano of Gordon. And to emphasize that the sax of the leader is never invading or suffucating, but always very calibrated and true to the spirit of good taste, it can be noticed also in the nearly Canterburyish That Old Smile, whose central bridge will make happy the fans of the crimsoid Groon. The last two tracks are those in which Theo, more than in the others, tries to evoke two geographic places and the generated states of mind from their permanence.
Last Flight From Twinwood, inspired by the place from which during the second world war Glenn Miller left for his last flight, and Bass Rock, inspired by the eponymous volcanic island near the eastern coast of Scotland uninhabited but for colonies of birds. It turns out very difficult for me to find words to describe the feelings and the moods that derive from these pieces of incredible fascination - masterpieces within a masterpiece : the talent of Theo Travis has really completed a travel to the center of the sun, bringing back energy, heat and brightness, characteristics of an album destined to become an unavoidable classic."


No Warning - translation of review from the Italian webzine.