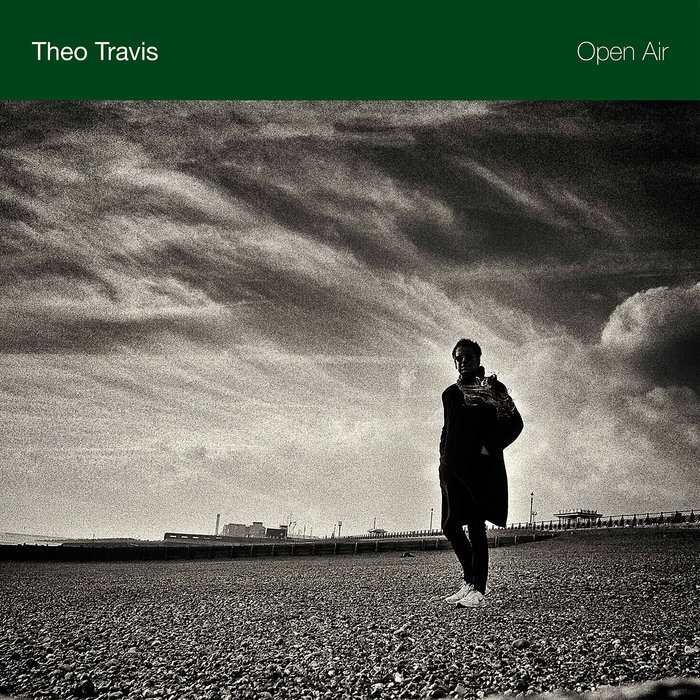 By John Kelman, All About Jazz (Source Review)
It's been a very busy decade for Theo Travis. The British reed/woodwind multi-instrumentalist has appeared, to varying degrees, on literally every album that Steven Wilson has released since turning to a solo career in 2009—from Insurgentes and 2011's Grace for Drowning (Kscope), through 2013's best-selling The Raven That Refused to Sing (And Other Stories), 2015's commercial breakthrough Hand. Cannot. Erase. and 2016's interim EP, 4 1/2 (all on Kscope)—while touring the world for three years with the rising progressive rock star, documented in his self-released book, Twice Around the World: Steven Wilson Tour Blogs 2012-2013 and including appearances in Montreal, Canada in 2011 and 2013.
During that time, he's also managed to tour and release a series of soundscape recordings with King Crimson's Robert Fripp, from 2008's Thread through 2014's Discretion (all on Panegyric); tour with David Gilmour in support of the Pink Floyd guitarist's Rattle That Lock (Columbia, 2015); and continue to record/tour with Soft Machine Legacy, the largely alumni-based collective of ex-Soft Machine members (Travis being one of the few, in the new millennium group's decade-plus existence, who did not play in its original run from 1966 through 1981); and both tour and record with British progressive rock group, The Tangent.
Beyond guest appearances on albums by artists including No-Man, a reformed Jade Warrior, ex-Japan drummer Steve Jansen, Gong and David Sylvian, it's hard to believe that, during that very same period—and, In addition to 2011's All I Know, an impressive and, especially for those new to Travis' music, informative two-CD anthology covering sixteen years of jazz-centric solo releases (most on the 33 Jazz imprint) from 1993's 2am through 2004's Earth to Ether, 2007's Double Talk and 2009's very limited live release, Ascending, Live at the Pizza—Travis also continued to gig occasionally with his Double Talk group, releasing its first studio album in eight years with 2015's Transgression (Esoteric Antenna).
On many of these recordings and live performances, Travis has used a sophisticated array of looping and other sonic devices to create what he calls "Ambitronics"; a process by which he can create multilayered, often spontaneously composed, music. But it's his duo work with Fripp and his ongoing collaboration with fellow Gong alum/bassist Dave Sturt as Cipher, which has currently released three albums, including 2006's Elemental Forces (Burning Shed)—in addition to writing scores for eight silent films from the 1920s that were performed live in a series of independent movie theaters across the U.K.—and, most notably, his solo flute outing, Slow Life (Ether Sounds, 2003), that first set the precedent for Open Air, another ambient-based, loop-driven solo flute recording that, limited to vinyl and downloadable formats, demonstrates continued growth for Travis while being possessed, at the same time, of some significant differences.
First, while still largely based upon spontaneously composed original music, Open Air also includes two pieces from outside sources: "Magnify," a drone-driven piece based on a traditional tune but here transformed almost beyond recognition into a lush, tranquil landscape; and "Whistman's Wood," the opening track from fellow reed multi-instrumentalist John Surman's Saltash Bells (ECM, 2012) that here, performed on flutes rather than saxophones and clarinets (and without the relentless rhythm of Surman's sequenced synthesizer), assumes a far calmer complexion, even as Travis builds his piece around Surman's core changes, layering loop-upon-loop of concert flute, alto flute and bass flute to create an ever-shifting series of changes that combine lithely improvised lines and clouds of sound that gradually ascend beyond perception, leaving Travis' lone flute to conclude the piece with gentle flurries, before ending with a single sustained note.
Unlike Slow Life's Travis-alone performances, Open Air also features a guest appearance by Academy of St, Martin in the Fields cellist Judith Herbert, who contributes deep, dark, wooden lines to Travis' bass flute drone-driven album-opener, "Menacing Eyes," with its hints of Middle Eastern tonalities and overall melancholic disposition.
Third, whilst Slow Life was an exploration of what could be done with nothing more than an alto flute and Ambitronics, Open Air expands Travis' sonic palette through its use of a variety of flutes: in addition to concert, alto and bass flutes, Travis introduces wooden flute and, in particular, Native American flute on "Snow Owl Earth," where its specific tonality dominates over a gentle chordal cushion of other layered flutes.
Travis describes Open Air as "beatless, ambient flute music," and there's no denying that this largely tranquil 50-minute program can easily serve as a much-needed balm for today's troubled times. But it's much more than that. The term "ambient" often suggests (in no way derogatorily) unobtrusive sonic backdrops: music that does not command the mind but, instead, is more felt than heard; music evocative of imagery and atmosphere rather than melodic, harmonic and rhythmic movement.
Indeed, there are aspects of Open Air that meet such descriptors...but equally, it's hard not to appreciate the lovely melodies and haunting changes that define the spacious "Preacher and Flock"; the arpeggio-driven "Sailing and Drifting," which suggests a calmer, less unrelenting Philip Glass; or the closing, riff-driven, finger-snapping "Head for Home," a surprisingly propulsive piece that could easily morph into a progressive rock instrumental with the addition of an electrified rhythm section.
Throughout, Travis continues to prove himself a masterful player and spirited conceptualist. It may well be an album of "beatless, ambient flute music," but that's too reductionist a description of Open Air. As definitive as its calming quietude can be, this is a remarkably diverse and unpredictable album, especially considering its relatively diminutive instrumentation.
Not unlike Norwegian reed/woodwind player Hakon Kornstad—whose series of improvised solo reed and woodwind recordings on Jazzland (also, utilizing extensive looping), including 2010's Dwell Time and 2011's Symphonies Inside My Head are similarly impressive but born of a very different mind—Travis continues to demonstrate just how disparate a similar foundational concept can become in the hands of musicians from different cultures and differing musical touchstones.
Possessed of a reach that has, over the past quarter century, found him traversing a remarkably broad expanse of the musical continuum, Travis continues to transform a concept similarly adopted by other musicians into something deeply personal and instantly recognizable. Call it jazz, call it prog, call it ambient. Call it anything you wish, but perhaps the best and most accurate description of Open Air is this? A musically deep and diverse yet emotionally soothing and eminently appealing record that positions Travis as a musician of great reach, infinite potential...and deserving of increased attention, as he continues to find himself the musician of choice for a great many others, even as he continues to build his own impressive discography. ​
Track Listing: Side A: Menacing Eyes; October Night; Whistman's Wood; Snow Owl Earth; Glint of Light. Side B: Magnify; Preacher and Flock; Blackhouse; Sailing and Drifting; Head for Home.
Personnel: Theo Travis – flute, alto flute, bass flute, wood flute, Native American flute; Judith Herbert: cello (Side A#1). Title: Open Air | Year Released: 2017 | Record Label: Tonefloat